released 2011 by Impedance Records
Berlins bad girl is back with a hell of a lot more bite
Reading press reviews of Mignon's debut album 'Bad, Evil, Wicked and Mean' (released in 2007) you'd be forgiven for believing Frankenstein had dreamt up a brand new rock 'n' roll bride for the 21st Century, with Mignon's music earning herself a commixture of comparisons from Joan Jett and Lita Ford to a vicious Kate Bush and bullish PJ Harvey.
When you've practically toured the world since 2002 in a haemorrhaging cloud of smoke bombs and straight-jackets , set your Jett-tight leather pants alight onstage one to many times to count Mignon is ready for the next level of her musical career with her brand new rocking album 'Kiss of Death' which is ready to be unleashed.
Gone are the dominating keyboard sounds which feverishly chirped and hissed around her heels like dancing cockroaches on 'Bad, Evil, Wicked and Mean', instead, Mignon further explores her lust for heaving guitars and the raw sound of pummelled drum skin. Dirtied desert-howling bass lines and snarling riffs produce a high-powered album of balls-to-the-walls anthems which will stain your mouth and sit in your throat like a splintered candy apple washed down with a hot shot of Jagermeister. Once you've got a taste, you won't be forgetting them in a hurry.

The biggest surprises are songs like title track 'Kiss of Death' and 'Assassin'…Mignon reaches new heights of bone-stripped melody with her singing, using it as a preferred poison to the rapping which playfully douses her first record. Our self-proclaimed bad girl teeters emotionally between the blurred lines of sweet love and psychosis, close to desperation…close to the kill. We've heard about her black soul, here she exposes just a little more of her black heart, shooting shattered shards straight from her hip, with a mouth like a starved Venus fly-trap,
Rest assured, whilst listening to 'Kiss of Death' you won't have heard Mignon quite like this before.
The screeching-tyre pace of 'Scream' implores you to do nothing but that in the style of an alien body snatcher, reducing you to a dripping phantom of mascara and leather bellowing the words through your bedroom walls…The pounding metallic taste of knuckle-licking 'Fist' (which is as in your face as the title suggests) charges at you like a rhino with PMT, whereas 'Hot Love' comes on like a Robert Rodriguez movie sex-scene before exploding into a thick, sticky chorus that shines as one of the album's tastiest highlights "Gimme a shot of, gimme a shot of…"
However, just when you think Mignon has unpacked every surprising punch,, album closer 'Santa Muerte' (Saint Death) offers one last twist – a Mexican-tinged cocktail of cigars and guitars, awash with tequila-soaked melancholy we've not ever heard pass her lips before…"Some day you got to face your end, you've got to pay the price for every vice."
Still, while we're all in the land of the living, Mignon isn't going to stop until she has everyone on their knees, with only one woman's name on their lips and a toxic warning sign painted on every collar.
Reviewed by Barnaby Thornton
Live Review: Twins of Evil – Rob Zombie & Marilyn Manson – Bochum 2012
Written by Daniela VorndranPublished: 03 December 2012
https://www.reflectionsofdarkness.com/artists-p-t-concertreviews-156/12314-live-review-twins-of-evil-rob-zombie-a-marilyn-manson-bochum-2012.html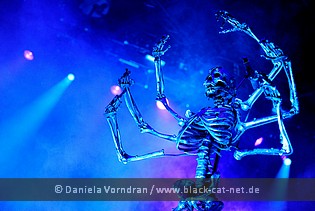 RuhrCongress, Bochum, Germany
2nd December 2012
Twins of Evil – Rob Zombie & Marilyn Manson, Opening Act: DJ Mignon

What a package! ROB ZOMBIE and MARILYN MANSON on a common tour! In December, the package came to Germany for two shows, the first of them took place on Bochum. The second one would follow a few days later in Munich. Both artists have new releases in their sleeves they would fire into the audience. That the package was highly appreciated was shown by the fact that the Bochum date was totally sold out and already at 18:00 there was a really long queue in front of the venue.

Before both evil twins would enter the stage, the evening was opened by a DJ act, DJ Mignon. Mignon, the girl from Berlin currently living in Los Angeles, is not only front woman of her band, MIGNON, which released the Metal-Punk-Rock album 'Kiss Of Death' in 2011, but she's also a DJ and as DJ, she opened the evening with a wild mix of heavy electronic stuff like NINE INCH NAILS or Rock-Metal stuff like GWAR. During her little set, she also included an own song, as it seemed. Usually, a DJ set is visually not very attractive, but Mignon was making her set something special by dancing on the table, changing clothes or adding little accessories like a baby puppet. After her 30 minutes, the stage was prepared for MANSON, who started his show at 20:00.
Mignon Debuts Stripper Tribute at Crazy Girls, Brings Out Rock Star Crowd
By Liz Ohanesian, Thu., Mar. 4 2010 @ 10:02AM LA WEEKLY
It's not too often that we end up inside a bikini bar waiting to check out a band and stop for a double-take when we realize that members of Queens of the Stone Age just walked into the venue, but more scenes like that are on the horizon now that Crazy Girls is hosting live bands on Wednesday nights.
​With little in the way of promotion, the legendary Hollywood haunt launched its band night a few months ago and, if last night's performance from former Peaches collaborator Mignon was any indication, the response has been great, blurring the lines between music fans and bikini girl aficionados.
Crazy Girls doesn't forgo its primary mission in favor of the bands, though. Before the live music, a stream of girls hit the stage. More often than not, they lethargically slink along to pop hits by people like Beyonce and Nicole Scherzinger. Every once in a while, though, you'll see a girl who can headbang to Guns n' Roses as well as she can flip upside down on a pole and start to think that this is one of those only-in-Hollywood rock moments.
For Mignon, Crazy Girls wasn't just another gig, but an extension of her onstage persona. Her most recent single, "Hot Love," was written as a tribute to exotic dancers and, as a performer, she embraces elements of the strip tease, piling on and removing clothing throughout the show.
"I should have done pole dancing," the singer, who recently moved to Los Angeles from Berlin, lamented after the show.
Mignon may not have climbed any of the venues four poles, but there was enough of a spectacle to entertain the crowd, which included Mignon's hard rockin' friends Queens of the Stone Age's Josh Homme, Nick Oliveri (Kyuss, Queens of the Stone Age, Mondo Generator) , Amen's Casey Chaos and bad ass drummer Samantha Maloney (Hole, Mötley Crüe, Peaches). Several of the club's dancers joined Mignon on stage as she thrashed between band members and slithered up to the crowd.
With her newest album, Kiss of Death, due out in May, Mignon says that more "shows at random places" are on the horizon, though she's hesitant to give out anymore details. As for Crazy Girls, they'll be continuing their foray into live music.