Scene from the Frank Capra Movie: "You can't take it with you"(1938)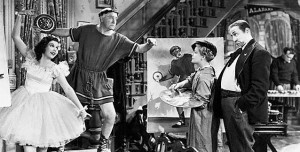 Tony Kirby:
Your family, boy, they knocked me for a loop. I don't know, it just seems like in their own way, they found what everybody's looking for. People spend their whole lives building castles in the air and then nothing ever comes of it. I wonder why that is? Well, it takes courage. Everybody's afraid to live.
Alice Sycamore: You ought to hear Grandpa on that subject. He says most people nowadays are run by fear. Fear of what they eat, fear of what they drink, fear of their jobs, their future, fear of their health. They're scared to save money and scared to spend it. You know what his pet aversion is? The people who commercialize on fear, you know they scare you to death so they can sell you something you don't need. So, he kinda taught all of not to be afraid of anything, but do what we want to do. Well, its kinda fun, anyway.